Pat Wictor Bio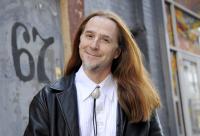 "...Pat Wictor walks onstage and sits down. He places a Guild DV-52 flat across his lap and begins playing slide guitar. The sounds are snaky and sizzling...."
--Richard Cuccaro, Acoustic Live
Pat Wictor first burst on the folk and acoustic scene as an innovative slide guitarist known for fresh and memorable interpretations of traditional and contemporary songs. He has since made his mark as a singer-songwriter penning lean and poetic songs that incorporate - and subvert - rural blues and gospel traditions. For the past five years he's been touring nationally as one third of Brother Sun, the powerful harmonizing trio with Joe Jencks and Greg Greenway, garnering critical acclaim, a #1 CD on the Folk DJ charts, and a continent-spanning tour schedule.
An American by birth, Pat's early years were spent in Venezuela, Holland, Norway, England, and East Texas. His time abroad gave him the perspective of a world citizen, and set him on a journey to understanding America - and his own American-ness - through music. Through these early experiences, he gained an appreciation for taking different paths to arrive at the same destination.
Indeed, Pat took a convoluted path to folk music, winding his way through rock, heavy metal, and jazz. He started with guitar, shifted to bass, moved to saxophone, and then quit music entirely before a return in 1993, a time when he also began writing songs. By 2001, he left a teaching career to pursue music full time and does so in the broadest way possible. An adept improviser and accompanist, he is sought after as a collaborator, sideman and session musician, with dozens of recording credits to date. His monthly e-mail column, "A Few Choice Words," is read by thousands of subscribers. He is a music educator of note, teaching workshops on improvisation, writing, interpreting, and rearranging songs, on slide guitar and other guitar techniques, and various topics of music history.
Recognition and honors have followed Pat for years: he won the Falcon Ridge Emerging Artist Showcase, was nominated for Emerging Artist of the Year by the Folk Alliance, was nominated for Gospel Song of the Year by the Independent Music Awards, and was a finalist in the Kerrville New Folk songwriting contest. His CD "Sunset Waltz" reached #2 on the Folk-DJ charts, and "Heaven is so High" and "Waiting for the Water" both reached #4. And even more attention has come to Pat through his work in Brother Sun.
Released in 2011, the debut band CD "Brother Sun" brings to the fore qualities Pat's fellow musicians have known about for years: his skills as ensemble player and co-bandleader. The CD displays new levels of freedom in Pat's slide playing, and showcases his harmonizing abilities, as well as several lead vocals and song contributions. Brother Sun brings together three formidable musicians, and the combination is even greater than the sum of their individual talents. Audiences leave Brother Sun shows feeling uplifted by the amazing power of harmony. The majority of Pat's touring time is spent with Brother Sun, but his solo shows remain a laboratory where he tries new material and new approaches - even reciting poetry and doing body percussion.
Pat's engaging solo performance was captured on his 2010 CD, "Living Ever-Lovin' LIVE" - equal parts fireside chat, wide-ranging meditation, and foot-stomping blues. He features his originals and a few well-placed celebrations of his musical friends and heroes. With flowing red hair and zen-like calm, Pat embraces his audience with the sincerity of his music and the clarity of his voice, inviting them in.
He is an in-demand session musician, providing his distinctive slide guitar and vocals on dozens of recordings, including releases by Sloan Wainwright, Jon Vezner, Joe Crookston, and a forthcoming CD by David LaMotte.
HONORS AND CREDITS:
For a complete discography,
please click here
Finalist, New Folk competition, Kerrville Folk Festival;
Most Wanted, Falcon Ridge Emerging Artist Showcase
Nominee, Emerging Artist of the Year, International Folk Alliance
Nominee, Best Gospel Song, "Love Is the Water," Independent Music Awards
Quotes and Testimonials:
"He manages to infuse an almost playful, yet tasteful, improvisation while maintaining a beautiful sense of melody........While he can fingerpick like the best of them, he is an absolute madman on the lapsteel. Unquestionably, anyone who has ever heard a Wictor show will permanently place him in the company of the best in the genre- Harry Manx, Kelly Joe Phelps and Ed Gerhard."
-Frank Matheis, TheCountryBlues.com
"...the clarity of his voice is an interesting juxtaposition to the glorious grit of his musicianship.....He manages to creatively absorb the work of others, leaving their musical intentions beautifully intact, while adding his own sonic signature to the mix."
-Ellen Geisel, Dirty Linen
"Pat's Zen-like quality instantly puts the audience at ease, and I'm afraid it underestimates his skills. Like Joe Dimaggio could make a spectacular catch look rudimentary, Pat Wictor delights in sharing original and traditional songs in his unique style. His original songs are gaining a lot of attention and a number of artists are beginning to record him."
-Ron Olesko, WFDU Teaneck, NJ
"His performances are delicate, nearly evanescent—a daring and unusual approach for a blues singer who give listeners fresh perspectives on such familiar material as Son House's "Death Letter" and Skip James' "Hard Time Killing Floor." Wictor's compositions…are especially memorable."
-Blues Revue
"If you can make it to only one concert this year, let it be a show by Brooklyn's own Pat Wictor, who plays heart-felt blues-based roots music like the only begotten son of Bonnie Raitt (same red hair!) and Chris Smither. And unlike blues interpreters who have seen too many stormy Mondays with hellhounds on their trail, Pat is also an excellent songwriter whose new/old compositions will send you on a journey through the old Dock Boggs and Son House 78s. But these aren't old songs, they're originals that, to paraphrase Mr. Smither, are "still flopping around on the deck."
-Jim Motavalli, WPKN, Bridgeport, CT
"Soft-spoken and articulate, in the 1930's he could have been a dust bowl preacher. The sermons, accompanied by the choir of his slide guitar, would have brought comfort to many a soul."
-Richard Cuccaro, Acoustic Live
"He not only is a great guy and a great talent, but I believe he has, follicle for follicle, the best hair in folk music."
-Rob Carlson, Modern Man