Living Ever-Lovin' LIVE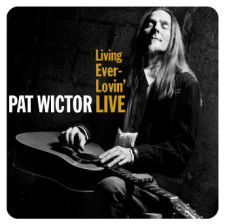 released 2010 RiskyDisc Records

"Living Ever-Lovin' LIVE" is a collection of live performances from 2009. Pat plays solo and in collaboration with good friends including Abbie Gardner, Toby Walker, Stephanie Corby, David Glaser, and Carl Cacho.

All but two of the songs on the CD are previously unreleased.

The CD captures all the elements of a Pat Wictor show--humor and warmth, beautiful ballads, foot-stomping blues, stories, fine guitar playing, and collaborations with outstanding musicians. The shows were recorded live at various venues around the Northeast, between May and September 2009.




Pat Wictor: vocals, guitar, lap slide guitar
Abbie Gardner: vocals, dobro (tracks 2, 3, 5, 6, 8, 11)
Toby Walker: vocals, guitar (track 15)
Stephanie Corby: vocals (tracks 4, 14)
David Glaser: guitar, mandolin, vocals (tracks 4, 14)
Carl Cacho: guitar (track 14)
Neale Eckstein: bass (track 14)

Co-produced by Pat Wictor and Neale Eckstein
Mixed at Fox Run Studios, Sudbury, MA
Mastered by Bill Wolf, Wolf Productions, Arlington, VA