The Music World Opens Up, and an Invitation
Thursday, October 11, 2012
Because of the digital revolution, the music business has changed quite a bit over the last 20 years. Instead of the oligarchy it used to be, the music business has become more of a participatory democracy. More people are making more music than ever - and more GOOD music than ever, if you know where to look. It's no longer a top-down business run by a few gatekeepers dictating how artists reach music fans. Instead, music artists and fans freely interact with each other and create wonderful things together. That's especially true in acoustic / folk music, the most grassroots-oriented neighborhood of the music business.
The opening up of the music business is most obvious in how recordings are financed. You've probably seen recent examples of musicians who turn to their fans to help fund recordings, a phenomenon known as "crowdfunding." It's amazing and powerful to see what's possible when many people each contribute what they can. This is both a cutting-edge innovation, and an egalitarian echo of the time before recorded music, when music was financed primarily by arts patrons.
Brother Sun, the trio I'm part of with Joe Jencks and Greg Greenway, successfully funded our first CD through advance sales at shows. Our next CD is more ambitious - we're trying some new things musically, and we'd like to promote the recording far and wide. We have now launched an online campaign to crowdfund the project.
I'd like to invite you to participate. We've begun recording with Grammy-winning producer Ben Wisch, and he's already helped us hear many new possibilities. The CD is scheduled for release in late January. Find out more and make a contribution at:
http://www.indiegogo.com/brothersun
There's a video (don't miss the outtakes at the end!), and some perks are available for the various levels of funding. We appreciate the support, and we'll put it to good use.
==============================================
Eyes and Ears: What I'm Reading, Listening to, and Watching
-Books
Scott Alarik, "Revival: A Folk Music Novel"
http://tinyurl.com/8mhom3l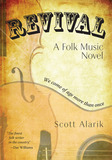 "Poems of Gerard Manley Hopkins Now First Published," ed. Robert Bridges
http://tinyurl.com/9b77d33
-Music:
The Stray Birds, "Borderland"
http://www.cdbaby.com/cd/thestraybirds2
King's X, "Dogman"
http://tinyurl.com/9bbor3x