Newsletter Archive
Connected Through History
Wednesday, October 26, 2005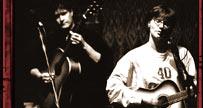 In recent years I've dug deeply into American "roots" music--Mississippi Delta and Piedmont blues, mountain music, roots gospel. I'm also increasingly drawn to contemporary music that has a history, that comes from some tradition (whether musical, cultural, or literary). Why?
Because having a history--coming from somewhere--means standing on the shoulders of those who came before, the mothers and fathers of all of us (musically, culturally, socially). Those "familial" connections, culturally speaking, are part of what unite all of us, performers, listeners, human beings. The music becomes bigger than an expression of "me" the performer. It expresses some shared history.
When I hear Dave Carter's writing, the archaic/anachronistic language he uses tells me that he had at his disposal the majesty of Shakespeare, the revelation of the Gospels, the stillness of the Buddha, the sensuality of Rumi--in sum, the whole of human wisdom and experience that came before him. He spoke with not just a single person's voice, but, to paraphrase Emerson, you hear the multitudes within (and before) him.
Read the lyrics to "Gentle Soldier of My Soul"
Listen to it here
(Last track on "Drum Hat Buddha")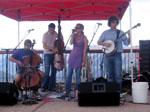 To me, respecting and incorporating traditions doesn't mean fearing innovation. Just check out Crooked Still, who sound traditional and rather avant-garde at the same time.
Listen to their version of "Darling Corey"--the cello wails like a country fiddle playing Bartok.

There are even modern and postmodern traditions--the jazz saxophonist Steve Lacy was inspired by the minimalist, whimsical paintings of Paul Klee, and you could hear it in his playing.
Look at some Paul Klee paintings:
Listen to a snippet of Lacy's solo on "Wickets":
(Scroll down the page to the sound samples--Track 3.)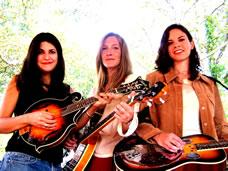 I hear among my contemporaries a renewed interest in those who came before, and it's exciting to hear what they create with our shared history. I hear generations of life in the Carolinas in Jonathan Byrd's songs.
Listen to "The Young Slaver":
(Track 2). I hear the progressive patriotism of Woody Guthrie in Fred Gillen Jr.'s songs.
Listen to "We the People":
(Track 6). And I hear the mothers and fathers of country music in Red Molly. :
Listen to "Yellow House"
(Track 1)
In a world of disconnection, misunderstanding, and division, connectedness is what we need. If you like, drop me a note, and let me know some works that connect you with our shared history.
Links:
Dave Carter
www.daveandtracy.com
Crooked Still
www.crookedstill.com
Steve Lacy
http://senators.free.fr
Paul Klee
http://tinyurl.com/76awq
Jonathan Byrd
www.jonathanbyrd.com
Fred Gillen Jr.
www.fredgillenjr.com
Red Molly
www.redmolly.com
•---------------------------------------------------------------
Ears and Eyes (what I'm listening to and reading )
•---------------------------------------------------------------
•-- Music
Kurt Elling, "Man in the Air"

buy the cd:
link
Jonathan Byrd and Dromedary, "The Sea & The Sky"

buy the cd:
link
•-- Books
Herodotus, "The Histories"

buy the book:
link
Listen to a tape of a conference call
with the editor:
link
(Windows Media only)
John W. Work, Lewis Wade Jones, and Samuel C. Adams, Jr.,

"Lost Delta Found: Rediscovering the Fisk University-Library of Congress
Coahoma County Study, 1941-1942."
buy the book:
link