New CD with Deborah Latz: Counterpoise
Friday, December 14, 2018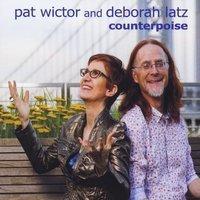 -New CD with Deborah Latz: Counterpoise
-Ears and Eyes: What I'm Listening to and Reading
==============================
Hi folks -
Wishing you and yours a very happy holiday season. Been a while since the last newsletter, and I've been waiting for something worth announcing. It's HERE: I've released a new CD, a collaboration with the jazz vocalist and performance artist Deborah Latz, titled "Counterpoise." We recorded 7 songs from a live performance that captures our harmonies and vocal interplay. The shows shows the breadth of our musical interests, with songs ranging from The Beatles to Irving Berlin, from Phil Ochs to an Ornette Coleman tune (for which I wrote lyrics). I'm excited about this collaboration! Deborah not only has a phenomenal voice, but brings a fearless creativity and adventurousness to our work together. We met at one of Bobby McFerrin's vocal improv workshops at Omega Institute, where we first sang together. We're still in the early stages of creating music together, and we're letting it grow organically. The musical possibilities are vast! You can purchase the CD or downloads at:
https://store.cdbaby.com/cd/wictorlatz
And, I've also been developing some new songs for solo performances, including - hey slide fans - several lap slide guitar tunes. Eventually those will find their way onto a recording, but right now I'm concentrating on writing (and reinterpreting a few) songs that I really enjoy.
Last November I planned a semi-sabbatical, to last for a year. I slowed my touring, stayed home more, and worked on some new musical skills. I had grown frustrated with some of my musical limitations. After a year I've made some progress in hearing, playing, and experiencing a wider range of musical possibilities, which was my goal. My semi-sabbatical is winding down as of 2019, when I resume touring a bit more. In the past year it also felt appropriate to reduce my exposure to social media and be sparing with my newsletter. I'll do my best to be a bit more communicative in the months ahead, without asking too much of your time. I'm grateful for your support and interest in my music.
Thanks for listening, and again happy holidays to you and your loved ones.
Pat
——————————————
Listen and purchase Pat Wictor and Deborah Latz, "Counterpoise":
https://store.cdbaby.com/cd/wictorlatz
=====================
Eyes and Ears: What I'm Reading and Listening to:
Books:
Jason Stanley, How Fascism Works: The Politics of Us and Them
https://tinyurl.com/yafld5ah
George Lakoff and Mark Turner, More Than Cool Reason: A Field Guide to Poetic Metaphor
https://tinyurl.com/y7h6k4ra
CDs:
Keb' Mo', Just Like You
https://tinyurl.com/y8w4w4du
Carmen McRae, Carmen Sings Monk
https://tinyurl.com/ybmo8bno