Wictor Wednesday Sept. 22, 2021 + Waiting for Godot
Tuesday, September 14, 2021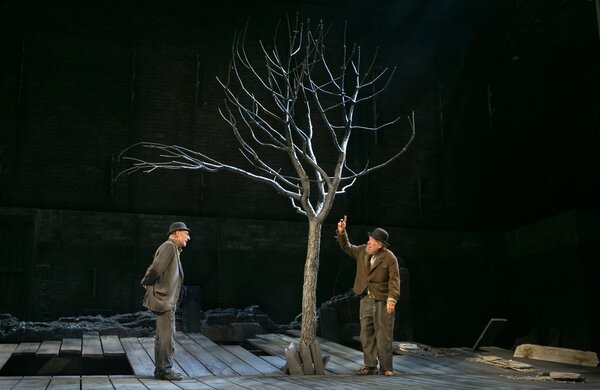 Dear folks -
I have a streaming concert next Wednesday, September 22, at 7:30pm Eastern (6:30pm Central, 5:30 Mountain, 4:30 Pacific). I'd love it if you could make it. For reservations, donations, and Zoom link, go here:
http://www.WictorWednesday.com
Admission is by sliding scale donation - pay as you are willing and able.
I'll be playing my newer songs, reading some poems, and enjoying your company. When we're done, I'll stay on to chat with folks who want to stick around afterwards.
Going forward I'd like to have one Wictor Wednesday streaming concert a month. The link for admission to each one will be www.WictorWednesday.com. For now, I'm going to have the concerts on Zoom, because I appreciate seeing and hearing folks I'm playing for.
I haven't been writing my newsletters in the usual way, because, well, nothing is as usual these days.
This remains a strange time for live music, and much else. I had a tour planned with my friend Noah Zacharin, for October through Alabama, Georgia, and North Carolina. Looking at the multiple uncertainties of it, including rising Covid rates and the real question of whether Noah would be able to enter the country from Canada (where he lives), we reluctantly decided to cancel the tour. Those of you residing in those states, I'm sorry to miss you this time around - it's not for want of desire to play for you. At the moment, I've got a handful of in-person concerts closer to home, and I'll continue to do streaming appearances. For now, I'm reluctant to plan extensive trips away from home.
I honestly don't know if any of the choices I'm making are the best ones for me and my spouse. There isn't any handbook for the moment we're in, and we're all making our own assessments of risk based on ever-changing and always-incomplete information. One writer called it the "Waiting for Godot" phase of the pandemic.
https://www.theatlantic.com/family/archive/2021/09/waiting-for-godot-beckett-delta-variant/620033/
The pandemic's end appears to be on its way, but it keeps not arriving. And most experts have concluded that the "end" simply will look like Covid becoming endemic - and, they hope, less dangerous. In other words, there won't be a moment in which we can declare the pandemic "over."
At this time, I'm continuing to slowly add musical tools to my toolkit, and continuing to evaluate the ever-changing pandemic conditions. Of course, one part of me really wants to get out and tour. I'm now physically ready for it, after fully recovering from long Covid, a major arm surgery, and cataract surgery. I feel like the Bionic Man, rarin' to go! But I can't plan to take part in large numbers of in-person musical gatherings a long way from home, just yet - it just doesn't feel right under these conditions. The time will come - Godot WILL arrive - but not yet.
I hope you're doing all right, enjoying some good music, and finding ways to safely enjoy the company of family and friends. Thanks for reading this far. I hope to see you (virtually) soon.
All the best,
Pat Wictor